We are happy to support Jordan's highly developed mobile sector and the growing demand for 5G services. We propose 3D maps of Jordan's main cities, 10m resolution Countrywide map and Population Distribution model (Pop Map) for the entire country.
Visicom 5G mapping products for Jordan enable operators to launch 5G nationwide.
The continuously evolving telecommunication market in Jordan follows the strategy of improving the telecom network's quality and implementing advanced services like Internet of things applications. Therefore, strong telecom companies, including Batelco (Umniah), Orange and Zain, are focused on deploying and developing advanced 5G networks in the coming years.
Our company from our side focuses on creating high-resolution and high-quality next-generation digital mapping data to serve 5G development and increase the efficiency and accuracy of decision-making within cities and across the nation.
Visicom used its AI-based mapping systems to process high-resolution multispectral imagery, producing high-precision 3D maps for Amman, Al-Hashimiyah, Zarga, Russeifa, Sahab, Ain Al-Basha, Aqaba, Irbid, Beit Ras, Aydoun, As-Sarih, Al Husn cities.
The resulting geodata with total area about 800 sq.km provides a highly accurate digital representation of every building, road, bridge, railway, water body, tree, grassland, terrain etc. across each city.
10m resolution countrywide map ensures the accurate land use classification, detailed urbanized areas features, last available administrative division, and street/road network. It also includes Pop Map of 10m resolution that will help operators to define the market potential and priorities for new deployments
2D map of Aqaba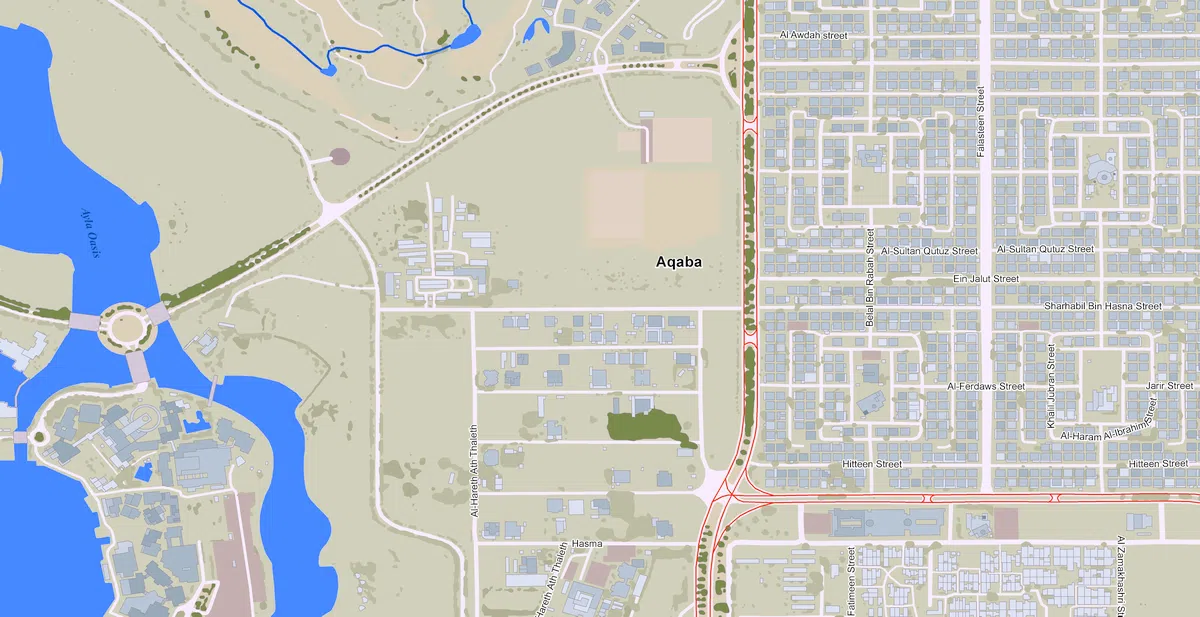 Our 3D and 2D maps are easy to use due to supporting of all major RF tools and GIS formats like ATOLL, ASSET, PLANET, ESRI shp, MapInfo, ICS Telecom and compatibility with any propagation model.
Contact us for free samples of any model type.‍↓